October 12, 2018
Posted by:

cileasing

Category:

News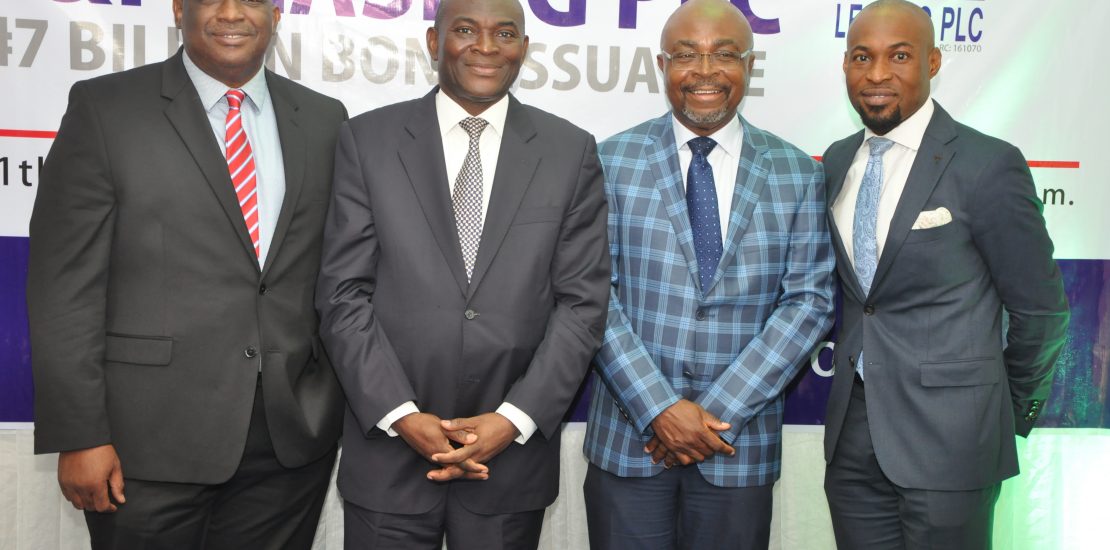 June 6th , 2018 – Lagos, Nigeria
C &I Leasing PLC N7bn Series I bond which opened on Monday the 21st of May and closed on the 4th of June 2018 has recorded a successful 100% subscription.  The bond which is a 5 years bond will mature in December 2023. This was revealed at the issuance signing ceremony which held today at the company's Head office in Lagos, Nigeria. The ceremony was attended by the Board of Directors of C & I Leasing PLC, the Issuing Houses, Trustees and other stakeholders involved in the process.
The bond which is the first series in a N20bn debt issuance programme is a Senior Secured Bond with a fixed rate of 16.54% and was issued at a price of N1,000 per unit. According to Efe Akhigbe the Managing Director of Planet Capital- the Lead Issuing House; "The offer was very successful because of the track record of C & I Leasing PLC as a business with over 25 years of operations in Nigeria. The company's investment in marine assets serving Oil and Gas Companies in various mid to long term contracts, which was attractive to investors,  in addition to the timing of the issuance was instrumental to the success of the bond which was largely patronized by top pension fund managers and insurance companies."
At the ceremony, the MD/CEO C& I Leasing PLC; Mr. Andrew Otike -Odibi stated that the N7bn raised will largely be invested in business expansion and restructuring of the company's debts over a period of five years therefore relieving the current debt profile on the group's balance sheet while increasing profit margins and returns for shareholders. "The success of the bond is indicative of the market's confidence in our business, they have seen our structure, focus and consistency with corporate governance in 27 years of operations and they can tell we have a good story unfolding. There is a niche market for Nigerian businesses in the Maritime sector to serve Oil and Gas companies, but it is not enough to be a Nigerian Company. Proper structure is also very critical, and this is one of our strengths at C & I Leasing PLC" He said.
C&I Leasing Plc has evolved to become a valuable resource and business partner for several indigenous and multinational blue-chip organizations. The company currently provides support services along three lines; Fleet Management, Personnel Outsourcing and Marine Services. The C&I Leasing group of companies which has its operational offices in Lagos, Port Harcourt and Abuja is also invested in subsidiaries – Leasafric Ghana and Epic International FZE.
###
Media Contact:
Alex Mbakogu
Chief Financial Officer
+2349037775833