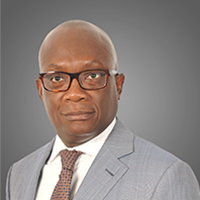 Mr. Babatunde Edun is a serial entrepreneur with demonstrated experience in turning around a number of under-performing assets and has keen interest in Mergers & Acquisitions as well as Nigerian anchored investments.
He is currently the Managing Director of Accat Nigeria Limited, an integrated telecommunications services provider to the GSM industry in Nigeria and is on the board of several companies in Nigeria.
Mr. Edun is a member of the Institute of Directors (IoD), the Lagos Polo and Ikoyi Clubs, and serves on the PTA Executive of the Saint Saviour's School, Ikoyi, Lagos. He is an alumnus of the Lagos Business School and obtained his first degree from the University of Lagos.