January 25, 2023
Posted by:

Oty Idaresit

Category:

Blog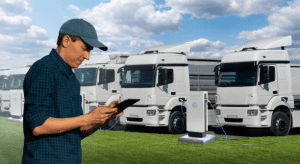 In the world of business, one thing is certain- companies rely on commercial vehicles to transport people and products every day. These commercial vehicles are known as fleets, and they are an essential part of operations. To improve efficiency and profitability, these fleets must be managed properly.
This article covers what Fleet management is, its importance, and the services covered by fleet managers.
What is Fleet management?
Fleet management is the process of managing a company's vehicle fleet, consisting of cars, trucks, buses, etc. This includes everything from purchasing and maintaining these vehicles to tracking their usage and performance and managing the drivers who operate them.
One of the primary goals of fleet management is to ensure that vehicles are being used efficiently and effectively. This can involve things like monitoring fuel consumption and driver behavior, as well as implementing policies and procedures to reduce wear and tear on vehicles and improve safety.
Some industries that use fleet management are:
Oil and gas

Security

Construction

Real estate

Government

Transportation
Fleet management is usually overseen by a fleet manager who ensures that the fleets are efficiently used, and driver behavior checked. And this begs the question:
What does a Fleet Manager do?
It is a fleet manager's role to identify opportunities to reduce operating costs on behalf of the organization. 
Vehicles need constant checks and proper maintenance for them to operate well. Fleet managers schedule and manage regular maintenance, as well as handle any repairs that may be needed. 
Fleet managers are tasked with the responsibility of acquiring the right vehicles. While this may seem easy, they have to make sure they are getting vehicles that will help reduce cost, this includes estimating vehicle lifespan. It's also the role of the fleet manager to propose financing options to acquire these vehicles. This could be through leasing, rental, or purchasing.
Whether the fleet size is big or small, a fleet manager has to know the location of any member of its fleet at all times. This means using GPS tracking and telematics systems to monitor the location and performance of vehicles.
This comprises driver safety and retention. To do this, they have to monitor driver behavior on the road to make sure they follow best practices, as well as provide training and support for drivers. 
Fleet report and analytics helps fleet managers uncover expenses and improve overall operations.
Importance of fleet management 
Fleet management can help businesses optimize operations and boost growth.  Here are a few ways they benefit:
Reduce costs and increased profitability
When fleets are managed and optimized they help reduce costs and add to the profit base of the organization.
Increase vehicle efficiency
With constant tracking of vehicles, fleet managers can monitor performance, stay abreast of maintenance issues, and help reduce wear and tear, thus increasing vehicle lifespan.
An important part of safety is ensuring driver behavior is compliant with laid down rules. Fleet management can help monitor driver movement, speed, and braking to prevent accidents.
When fleets are well managed, it makes for the prompt delivery of products and services, leaving customers happy and satisfied.
Fleet management makes it possible for an organization's vehicles to comply with regulatory standards, avoid fines, and stay on the road.
Fleet management is a crucial aspect of improving an organization's operations and profitability. It makes a case for remote tracking, improving safety, and reducing cost. Therefore, it is essential for companies to invest in fleet management services to ensure that their vehicle fleet is well-maintained, safe, and efficient.
Want to know more about fleet management and how it can help you? Contact an expert today